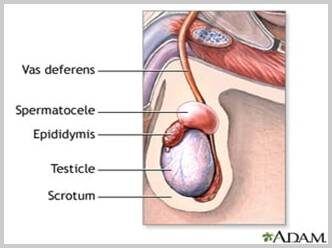 Testicular Cancer
Testicular cancer is the growth of malignant tumor in the testicle. It can occur at any age, but most frequently occurs in men between 15 and 35 years of age. Fortunately it typically only affects one testicle. With an early diagnosis of testicular cancer, it is highly treatable, however, left untreated, it can metastasize and become fatal.
Risks of Testicular Cancer
Although the cause of testicular cancer is unknown, there are several known risk factors:
• Family history of testicular cancer
• A previously undescended testicle
• Prior testicular cancer or genitourinary cancer
• Abnormal testicle development
• Having HIV/AIDS
• Current or past smoking history
• Being a Caucasian male
Symptoms of Testicular Cancer
In some instances, testicular cancer is asymptomatic. When symptoms are present, they may include some of the following:
● Pain or heaviness sensation in the scrotum
● Swelling or enlargement of the testicle
● Lump inside of the testicle
● Dull ache in the back or groin region, generally on one side
● Enlargement or tenderness of breast tissue
● Loss of sexual desire
● Premature puberty in boys
● Swollen lymph nodes in groin
.
Diagnosis of Testicular Cancer
To diagnose testicular cancer, a provider first performs a thorough physical examination of the testicles and scrotum to detect a lump. Other diagnostic tests may include the following:
● Blood tests for tumor markers
● CT scan of the abdomen and pelvis
● Ultrasound scan of the scrotum
● A biopsy of the lump
● Surgical procedure to remove testicle (orchiectomy)
Types and Stages of Testicular Cancer
There are generally two basic types of testicular cancer found in testicular evaluation. They are known as seminoma and nonseminoma. Seminomas are less likely to be aggressive, whereas nonseminomas, which usually develop earlier in life, tend to grow rapidly.
Testicular cancer, like other cancers, is divided into stages according to it severity and how advanced it is. The three stages of cancer are delineated as follows:
● Stage I cancer is confined to the testicle; no lymph node involvement, no spread outside of testicle
● Stage II cancer has spread to nearby lymph nodes
● Stage III cancer has metastasized to other organs outside of the testicle and nearby lymph nodes
Treatment of Testicular Cancer
With proper treatment, testicular cancer has very good prognosis. Treatment methods for testicular cancer include a combination of the following:
● Surgery to remove a testicle and possibly nearby lymph nodes to evaluate for metastasis
● Radiation treatment, using high-dose X-rays to destroy cancer cells
● Chemotherapy, using medications to kill cancer cells
● For men who may want to have children, sperm banking and cryopreservation is recommended prior to treatment of testicular cancer
*Regular self testicular exams should be completed to help identify any abnormal lumps. This can help detect disease at an earlier stage when it is more readily able to be treated.