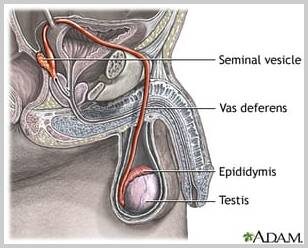 Epididymitis
Epididymitis is a disorder of inflammation of the epididymis. It is the tube behind the testicle responsible for storing and carrying sperm. Epididymitis is generally characterized by symptoms of pain, swelling and tenderness in the scrotum. It may affect one side, or affect both sides. Epididymitis most commonly affects men in their 20s or 30s, although it can occur in males of any age. It can be acute or if it occurs over a long period of time may become chronic epididymitis
Risk Factors for Epididymitis
Patients are at increased risk of developing epididymitis if they:
Have any anatomical abnormalities of the urinary tract

Use a urethral catheter or intermittently catheterize

Have had recent surgery

Have had a recent urinary tract infection

Have an enlarged prostate
Having a sexually transmitted disease
Causes of Epididymitis
Epididymitis can be the result of a spreading bacterial infection that may have begun in the urethra, prostrate or bladder and sometimes stems from a sexually transmitted disease. Some cases of epididymitis may not be a bacterial infection, but actually an inflammatory condition.
A medication used to prevent abnormal heart rhythms, amiodarone, can also be a cause of the condition.
Symptoms of Epididymitis
Symptoms of epididymitis may vary depending on its cause. These symptoms may include:
Chills or fever

Warmth, tenderness or swelling of the scrotum

or pain behind the testicle

Pain during intercourse or

with

ejaculation

Pain or burning during urination
Blood in the semen

Lower abdominal or pelvic pain

Urethral discharge

Lump on or near the testicle

Testicular pain that increases during

bowel movement

s
Epididymitis may begin with a low-grade fever, chills, and a sensation of testicular heaviness. As the epididymis progresses, the infection usually spreads to the testicle, resulting in increased pressure and pain and the manifestation of more of the above symptoms.
Diagnosis of Epididymitis
In addition to performing a physical, including a rectal, prostate examination, the provider may administer one or more of the following tests:
Blood tests

that may include

STD testing
Urinalysis

Ultrasound of the scrotum
If the patient is suffering from epididymitis, the provider may detect a tender swollen area on the affected side of the scrotum and may also find enlarged lymph nodes in the groin. Other signs of epididymitis are a discharge from the penis and the presence of an enlarged or tender prostate.
Treatment of Epididymitis
There are several methods of treatment for epididymitis. These include:
Bed rest

Elevation of the scrotum

Application of ice packs to the area

Antibiotics
A

nti-inflammatory medications

Supportive underwear
When a sexually transmitted disease is the precipitating cause of the disorder, pathogen-specific antibiotics are prescribed and sexual partners are to be notified and treated. If the reason for the problem is prescribed amiodarone, a substitute medication will have to be found or the dosage will have to be altered. In refractory cases or chronic cases of epididymitis, patients may benefit from surgical interventions including nerve blocks, denervation of the spermatic cord among others. In severe cases of epididymitis that are